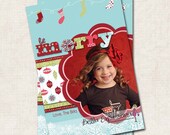 The merry season is just around the corner....dun dun dun... and you haven't even thought about your holiday greeting cards! YIKES!
No problem! Pop by our shop, we'll get them finished for you in 24-48 hours. Add your own photo and custom greeting and they are ready for you to print and mail. Why send out the same greeting card your neighbour will probably be sending because you both went to the same big box store? Get something more unique! Shop at: www.missbellaexpressions.etsy.com
Click Here to Visit My Etsy Shop!