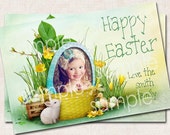 Easter is just around the corner and everyone is getting that yearly itch for pastel pinks, blues, greens and yellows. Bunnies and chick are popping up everywhere (and no I don't mean of the Hefner type). We've all had enough of the blustery Blues and Winter Woes and everyone is eagerly awaiting EASTER! The first signs of spring and lovely weather. I've already given myself a dose of spring tulips and am ready for full-blown spring fun!
Are you ready?
I've already purchased my girls some cute lavender coloured Easter socks (a bit of a holiday tradition I've started) and have begun to pack away a few Easter goodies but have you gotten your Easter cards ready? No? Well, what are you waiting for? Pop over to the shop to order your greetings that will beautifully show off your little "chicks" Easter photo shoot pictures! We also have some great coordinating Easter party decorations.
Click Here to Visit My Etsy Shop!