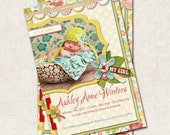 We've added a sweet little announcement to the shop.... and she's kinda shabby chic I think!
I designed this invite for a friend of mine who recently had a baby and I thought something girly with bright pops of colour was just the look to go with. Isn't it adorable?
Click Here to Visit My Etsy Shop!