Hi everyone,
Today I'm in the mood for love. Valentine's Day is just around the corner and my kids are getting excited to share their Valentine's already. Plus I had a fabulous weekend with my besties so that totally recharged my batteries. We have now decided it is necessary to do those wonderful get-together-shopping-sprees every two months. Mommies really do need their alone time to be themselves instead of a mommy all the time.
So anyways, I'm in the mood to get my girls decorating the house for Valentine's Day so I looked around for some cute and awesome ideas and wanted to share it with you. I try to share things that are simple and easy to do for all you busy mommies out there like me, so enjoy!
What a cute and simple idea! A nice little bit of bunting above the bed. And I'm sure you could find precut pieces at the local dollar store or craft shop. Thank you
Shabby Addict
for sharing!
This is almost the same idea as above, you just need a few more pieces and a little extra glue to make the 3-D version but so cute for the window! Check it out at
Lushome
.
So sweet, so simple. Just download (or make your own on your computer, and print it out. Pop in a frame and voila! An adorable little sign for the holiday. This one is from
Less Cake More Frosting
.
Could this be any easier? A simple votive and some pretty sprinkles. These would look great on a dinner table or mantle! Source:
Home Klondike
.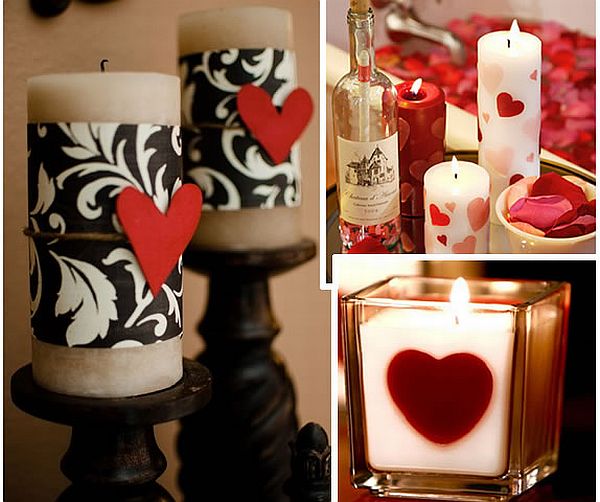 Here are a few more candle ideas... add a little paper or stickers and these look great! Just be sure to keep an eye out so the paper doesn't get too close to the flame. Source:
Decoist
.
Decorate your front door with this cute paper wreat! The kids can help with the cutting and gluing. Source:
Craftelf
.
This would be great on a table in the entry way or on a side table somewhere. And I love that they used red AND blue hearts for the little guys out there. Thanks
No Time 2 B Bored
!
So I hope you are all inspired to go and decorate a little for the holiday of love. I sure am and some of these look so easy to do with my girls. If you like what you see here please share! We'd also like to hear your decor ideas!
Pin It